"The most clever and creative baby journal I have ever seen!"
Linda Wolff, Carpool Goddess.com

Traditional baby books aren't my style -- I don't generally color within the lines, but I love Jill Caryl Weiner's modern version." Alessandra Dubin, Parents.com

"Having a baby is as full of milestones for parents as it is for baby. When We Became Three
makes a place for both moms and dads." Anna Fader, MommyPoppins.com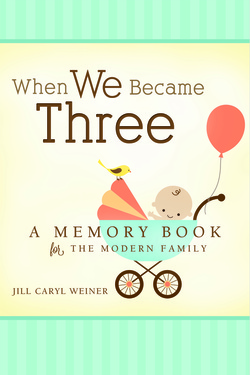 Congrats, new parents! The adventure you're beginning belongs to Three! Let the pages of this book tell your story.
"When We Became Three: A Memory Book for the Modern Family" is a 21st Century take on the baby memory book that captures those magically mundane moments as baby develops from an eating/pooping/sleeping machine into the cutest little person ever. And it records parents' transformation from bumbling, unskilled sleep-deprived zombies (no offense) to confident, competent parents. It's the first memory book that let's parents record their own milestones while they record their memories about baby for a complete, easy-to-fill-out biography of their new family.
"When We Became Three" is funny (Which of the seven pregnant dwarves were you?), romantic (What qualities of your partner do you want baby to have?), unique (It records baby's first real words as well as parents' first baby words) and easy to fill out (with fun checklists, creative prompts and space for details). On top of all that, it 's adorable, affordable, makes a great keepsake and can fill it out in hindsight!!!
It's available on
Amazon
and in
Barnes & Noble
and other book stores. Ask your local bookstore to carry it and like it on Facebook to keep up to date with events, etc. You can like it on
Facebook
for all the latest on events, sales and other info, or
email
to be put on our mailing list.
---