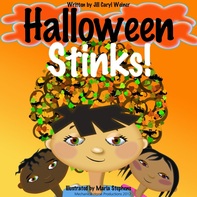 On Tuesday afternoons, Gus's dad picks him up from school dressed as a fish. Mr. T works as a teacher in the aquarium and wears a costumer to work everyday. His mom works in a petting zoo and dresses as a giant, fluffy chicken. As Halloween approaches, Gus's friends and family are excited about dressing up, but Gus can't come up with a single idea.
He starts to wonder: when your parents wear a costume to work every day, what's so special about Halloween? Halloween Stinks! was designed to take e-books to a new level and make the most of technology. Written by Jill Caryl Weiner, illustrated by Maria Stephens and published and enhanced by Mechanical Horse Productions, it's interactive and animated from the iTunes bookstore on iBooks -- with witches flying across the sky, a jack-o-lantern that light up to the touch, and a costume matching game at the end. It's also available for the Kindle Fire as a halloween tale with a twist.)
---
E-books are revolutionizing children's literature. Could interactive e-books like "Halloween Stinks!" be the magical formula that helps precocious readers stay interested in kids books and also get reluctant readers interested in reading? The New York Examiner thinks it could be.
Here's the link to the New York Examiner interview.
NY Gifted Education Examiner:
Halloween Stinks!
is a book, but it's more than a book. It's electronic and it's interactive. Why did you choose this particular format for this particular story, and what extras will readers find that they can't get in a print version?
Jill Caryl Weiner: No doubt about it,
Halloween Stinks!
would make a great children's picture book, but its advantage as an e-book is that it can be as fun and full of surprises as Halloween itself. On Halloween, anything can happen. Our eBook jumps on this. There's lots of subtle animation as a backdrop to the story: a lovely tree slowly losing its leaves, a witch flying across a page on a broomstick, and a ghost fading away into the background. There are some fun activities, like kids can move parts of costumes around and light up a jack-o-lantern just by touching it. It's just fun, and the interactivity and animation doesn't take away from the story or the act of reading the book, it adds another layer like a soundtrack does to a film. From the changing animation to the changing tones of the e-pages you feel Halloween approaching and wonder what's going to happen.
Click to read more.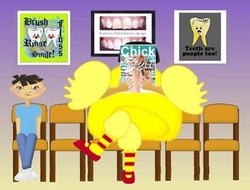 Written by Jill Caryl Weiner
Illustrated by Maria Stephens
Published for the iPad, iPhone and Kindle Fire by Mechanical Horse Productions.

This book is available for download with iBooks on your Mac or iOS device, and with iTunes on your computer. Books can be read with iBooks on your Mac or iOS device. It's also available on the Kindle Fire

---